Central Otago is a place of unrivalled beauty and uniqueness, with abundant orchards, diverse wildlife, and captivating landscapes. Amidst the beauty of Otago, the region's progress in infrastructure, road development, and residential areas is moving at a fast pace.
To meet the increasing demand for aggregate needed for the region's ongoing developments, Amisfield Quarry sought our guidance in expanding and deepening their quarry. As proud Cromwell locals, we gladly offered a helping hand. Our mission was clear, help our client secure a steady supply of aggregate to meet growing demands, while preserving the unique beauty of our region.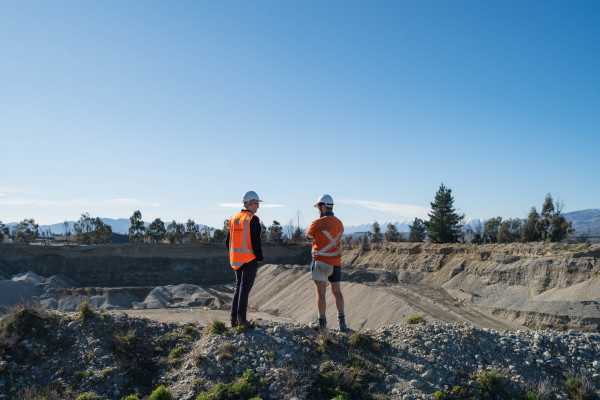 Having a local aggregate supply is essential for Central Otago. It's the key to meeting resource demands for roading, residential, industrial, and commercial developments – essentially, you can't build much without processed rock and sand. The advantage of having a nearby supply is two-fold, reducing carbon emissions and cutting down on transportation costs from distant sources, while also limiting the number of trucks and consequently, roading maintenance costs.
Our Technical Planning Lead – Energy, Minerals & Infrastructure, Matt Curran explained, "our mindset in the process was that we wanted to obtain resource consent for the Quarry that they can implement, and implement successfully, whilst doing right by the environment."
The task at hand
Amisfield Quarry is one of a few local aggregate suppliers aiming to keep pace with demand, so we were keen to offer our full support for their expansion project. Guided Matt's expertise, we embarked on this ambitious project. Our goal was to secure all the necessary consents and craft top-notch development plans and strategic advisory for the quarry's expansion and future longevity.
Engaging with stakeholders
Matt's strong understanding of large infrastructure projects and his technical expertise in mineral extraction proved essential in securing resource consent for the project.
Collaboration was at the heart of the approach. Engaging in open dialogues between our experts and various stakeholders from the start, including neighbouring landowners, local Iwi, the Department of Conservation, relevant councils and the Department of Conservation, we worked together to devise solutions that were incorporated into the expansion plans, ensuring a sustainable project for everyone involved.
The journey had its fair share of challenges. Throughout the consultation process, the Department of Conservation voiced valid concerns about preserving vegetation and wildlife on their adjoining land. This led to a range of discussions focused on addressing the possible impact of noise and dust from the expansion.
Concerns were also raised by neighbouring landowners, including cherry orchard owners. Their primary concern was the potential dust production caused by the expansion. They worried that the settling dust on their produce could lead to its rejection for export.
Responding to the challenges
This project encountered region-specific challenges related to the dry climate and the importance of horticulture. We were determined to effectively address these distinctive aspects to achieve a positive outcome for all.
Calling on the experts
To conquer the challenges we faced, we assembled a dynamic team of experts. On the dream team was Landpro's very experienced Principal Environmental Consultant Mike Freeman, who provided valuable advice on water quality effects with practical balanced solutions for all parties. Landpro's Survey team played a crucial role in planning and conducting drone work during the early stages which established a fantastic plan base to work options from. Additionally, Landpro engaged insights from experts from different companies to address aspects related to landscape, horticulture, noise, and air quality.
Adaptability was key to the project's success. Harnessing cutting-edge technology, we skilfully implemented measures that reduced dust and noise effects, ensuring optimal outcomes for all stakeholders, and preserving the environment's integrity.
Navigating Concerns and Securing Consent
To tackle these challenges, the quarry adopted a set of proactive measures, these included maintaining a high level of moisture across the quarry to effectively control and minimise dust, with plans to apply a sealing gel over the quarry material, when needed. Another measure was making sure that certain work was conducted only during periods when the wind direction was favourable.
Despite the challenges the project had to overcome; Matt expressed that the whole project team was great to work with. He was able to compile all the information from the technical experts, combining their efforts to propose an economic and environmentally sound proposal.
Matt explained, "my job was to come up with consent conditions that would address the effects, and could be implemented without too much cost, time, or hassle."
With the consent, the quarry expansion was set into motion, keeping stakeholders and the environment in mind. Both our team and the team at Amisfield Quarry were committed to balancing the economic development of Otago alongside environmental sustainability.
"We appreciated Landpro's expertise in a particularly challenging project. The partnership, characterised by expert problem-solving and environmentally conscious solutions, ensured the successful expansion of the Quarry while also prioritising the interests of all stakeholders" said Amisfield Quarry's Project Manager Tyler Sharratt.
With enthusiasm and a passion for sustainable practice, Landpro embraced the challenges of the quarry expansion project. The team was able to address all potential effects, obtain the necessary consents, and pave the way for the quarry to proceed with their work, all the while preserving Otago's unique beauty.